Intuitive Tarot Digital Course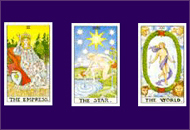 Learn to give accurate and spiritually meaningful readings with or without tarot cards! This course will take you through the entire deck and teach you how to get clients.
Start now…give intuitive tarot readings before summer!
Learn More about the Intuitive Tarot Digital Course
Available from the Inner Life Society Online Spiritual Study Center
The following two tabs change content below.
Latest posts by Dr. Antonia M (see all)