Connecting with Family: Tools and Tips from the Workshop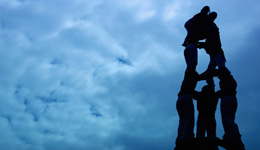 A colleague told me he felt bad for me that I would be spending the holiday with my family.  I felt bad for him that he felt that way.  I love spending time with my family; we have a great time together. This apparently was not the case for him. Unfortunately, there are many people who find family time a chore, a pain, a burden or a disaster waiting to happen. I've been working on several projects lately to educate families and couples on how to break down their walls, open up new doors, and create a new dynamic that brings them closer.  Getting to know each other–I mean really know each other– is an important step in that process. How well do you really know the people closest to you? How well have you let them get to know you? And if you've gone for years without ever really talking or connecting with your family the way you want to, how do you begin to change that now?  With the right tools and techniques, it's easier and less daunting than you might think. I have a few of these to share with you both online and in person:
IN-PERSON
If you're in the NYC area on Dec. 2,  I'll be introducing families to some easy-to-use tools and techniques for getting closer during the Breaking Down the Walls in Your Family workshop.  I recommend you come with at least one family member, but it's ok if you come alone. You can still take the knowledge back home.
ONLINE:
I've posted some Do-it-Yourself tips on how to use some of the tools and techniques from my workshop on your own. Read them here.
I'll be doing more family programs in the weeks and months ahead, including special programs for families of incarcerated men and women.  Stay tuned.
The following two tabs change content below.
Latest posts by Dr. Antonia M (see all)