Host Your Own HMHW Event or Group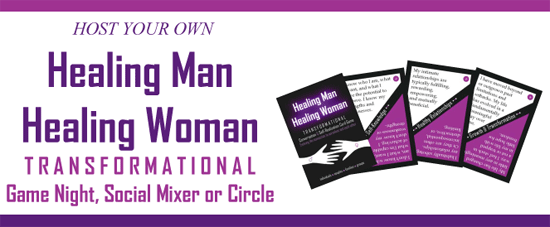 Easily create a fun-filled and unforgettable experience for people just by picking a card. Whether you want to create an informal gathering with friends and family or integrate Healing Man Healing Woman into a program offered by your organization, hosting your own Healing Man Healing Woman event is simple. You can be creative and put your own spin on how the game is played,  or you can invite the game's creator, Dr. Antonia M to facilitate a unique game experience for your group.
Healing Man Healing Woman:
A Transformational Conversation & Self-Realization Card Game
Healing Man Healing Woman (HMHW) is an exciting and innovative new card game that empowers players to evolve the connection to themselves and to the men and women in their lives. The object of the game is for players to help each other to balance and strengthen the underdeveloped areas in their lives, relationships, and personalities. During the game, players create a "self-development portfolio" that covers 10 major life areas. HMHW organically sparks dynamic exchange,  interactive self-discovery, and mutual self-development among players as they challenge themselves and each other to improve their portfolio…and become the complete and authentic men or women they desire to be.
Create your own event; the possibilities are endless
Using the Healing Man Healing Woman game, you can create a range of fun and transformational experiences  for individuals, couples, groups and families, such as:Self-development or sharing circles; couples' self-help groups,  icebreakers and breakout groups at retreats, singles' mixers; mother-daughter sessions, or conscious speed-dating. Or use the game to compliment your support group,  spa night,  mentoring program, coaching sessions, workshops,  or journaling/blogging program. You can even host a virtual game online. The possibilities are endless.
Get Started in 3  easy steps
Get the game
Order Healing Man Healing Woman from Dr. M's website and get familiar with how to play the game. The game is designed for 1 or more players. Discounts are available when you purchase 5 or more games. Adult supervision is recommended for teens and tweens playing the game.
Get together
Just pick a time, date and place and then send out your event invitations and announcements. Or create and promote a group on Meetup.com. Optionally,  create a theme for your event. Play Healing Man Healing Woman at home, over brunch,  at a lounge,  in a classroom, at church, or wherever you like.  You can even play the game over the phone with just one other person.  For the greatest impact and transformation, meet regularly to play the game. Want to play a "solitaire" version the game alone? Make it interactive by keeping a (video) blog so people can follow your transformation.
Stay connected
Meaningful connections happen organically as players play the game. Keep the connection, conversation, and transformation going between games with an online forum, weekly/biweekly phone call, or special outings.  Or join Dr. M's Healing Man Healing Woman group on Facebook.
Try one of these ideas at your Healing Man Healing Woman event or group
Magic Hat Icebreaker
Players put their names in a "hat". First player picks a card from the deck and name out of the hat. The person who's name is picked, plays the card.  The person who picked the name then shares his or her wisdom and/or connection regarding the card itself or what the person shared.
Conscious Speed Dating
Utilize one deck for men and one for women; each deck accommodates up to 72 people.  Participants each select a card before the speed dating begins.  During speed dating, the couples play their cards and add to their self-development portfolio with each new partner.  At the end, participants select the persons who they think will add the most value to their portfolio.
Role Model Exercise for Youth
Organize participants into teams of 2 – 4 people. Have each team select at least one card from the deck that represents a quality, skill or responsibility that they think is important and/or that they want to develop. (Optionally, organize teams and assign cards based on an assessment of students' developmental needs). Each team plays their card (amongst themselves) to assess themselves individually and/or as a team. Instruct teams to find at least one male and one female figure in their family, community, or from history that embody and exemplify their card. Teams report their findings to the entire group and share what they learned from it.
Family Edition
Organize parents and their teen/adult children intro breakout groups (6 parents max).  Deal the complete deck of cards evenly among the children only. (If parents have  multiple children, the children should act as a team).  Children select one card from their hand that they want each parent to play (one card per parent). After each parent's turn, children share why they selected that card for their parent. Optionally, a second round can be played where parents pick a card for their children. *This version of the game

is great for mother-daughter-father-son bonding and communication, and

can also be played among siblings or other relatives.

The following two tabs change content below.
Latest posts by Dr. Antonia M (see all)