Laugh Your Way to Enlightenment
A Laughing Meditation Exercise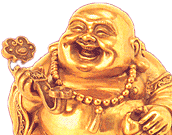 You have no doubt heard that laughter is the best medicine. It is great medicine for the body as well as the soul. Laughing is a great mover of energy. In laughing meditation, the meditator laughs, holding meditative awareness and posture, which moves great energy in the physical and emotional body.
LISTEN  to "Love Goddess Laughing Meditation" (MP3).
During laughing meditation, you are not trying to make yourself laugh by thinking of funny things. This would be a distraction. You want to stay present with your meditation. In laughing meditation, you are laughing regardless of whether you find humor in the moment, although at times you may come across it, and the laughter will be genuine. However, whether or not the laugh is genuine is not critical to the success of this meditation. The physical act of laughing–like any physical exercise– produces a shift in mental, physical and emotional energy. Laughing meditation often turns into a crying meditation temporarily, as the laughter begins to purge deeper emotions. If you begin to cry during laughing meditation, do not stop. Continue with the meditation at least until you return to laughter.
A minimum of 10 minutes is recommended for this exercise. For more experienced meditators, 1-2 hours is suggested. For advanced meditators, combine Laughing Meditation with another cleansing practice such as a Sweat Lodge and extend the practice for as long as possible.
To practice laughing meditation:
Take a few stretches and breaths to relax your body and center yourself.
Assume a meditative posture such as:

Sitting with legs crossed or feet on the floor, hands on lap or interlaced over the navel.
Standing with hands hanging at sides or fingers interlaced over the the navel.

Begin laughing and continue to do so until the end of the meditation.
Keep your mind focused on your laughter and whatever you are experiencing in your physical or subtle body.
But you don't have to laugh alone! Laugh your way to enlightenment with Antonia Martinez, Ph.d. and download the free Love Goddess Laughing Meditation. (Set it to repeat for continuous play.)
---
Learn Meditation. Teach Meditation.
Become a meditation instructor. The International Meditation Instructors Training & Certification Program developed by Dr. Antonia Martinez and offered by the Inner Life Society is a truly life-changing meditation class. This in-depth online meditation course takes an experiential approach to meditative science, practice and principles—and their applications in everyday life.
Visit the site for a program description and to listen to an excerpt from the class "The Value of Meditation"
.
---
ABOUT THE AUTHOR Dr. Martinez has been helping people to experience accelerated personal, professional and spiritual growth for nearly fifteen years. For free articles, podcasts and other helpful resources covering conscious living, self-mastery, healing, and more, subscribe to her mailing list at
http://www.HealingSpirit.com/subscribe
.Copyright 2007 – Antonia Martinez, Ph.D. All Rights Reserved Worldwide. Reprint Rights: You may reprint this article provided that all active links are included, article content is not edited, and name credit is given to Antonia Martinez, Ph.D. as the author.
The following two tabs change content below.
Latest posts by Dr. Antonia M (see all)